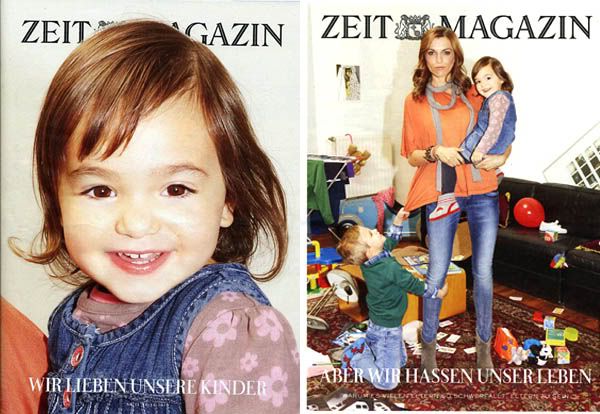 explaining visually the contents of magazines and newspapers comes from the graphical edition. Which images are chosen by printed media to illustrate their reportages/information? It happens that sometimes you have two very good images that could illustrate the text, both of them valid, so why not using them both?
this is sort of the idea that die zeit magazin follows now on their
"double covers".
You get on the first page one cover for the magazine, and on the 3rd page, you find the second cover.
The first example is based on a reportage on how lifestyle works against being a mother in a most traditional way. Or how modern paternity involves also sadness.
They create two covers. The first one states: we love our children
the second one: but we hate our lives.
this conflict is visually presented to portrait motherhood nowadays, and works even when i fell that hate- hassen- sounds way too extreme to illustrate this feeling on the second cover.
This second example illustrate a reportage about the german historical memory .On the first cover is written: was greatgranfather a nazi? On the second cover: and is that my problem? Both images and covers serve to illustrate a reportage about the perspective of the younger german generation over the nazis or the hollocaust question, quite a delicate thema.
i love this graphical proposal for a national newspaper, -die zeit is in germany after the suddeutsche zeitung one of the main read national newspapers-,
i love their graphical and art direction. they are excellent!